Nationally Recognized Firm
Our goal is to win your trust and your case.
Pottstown Truck Accident Attorney
Protecting Accident Victims in Montgomery, Chester & Berks Counties
Trucks rule the roadways of the United States. Each year, the 18-wheel behemoths are involved in hundreds of thousands of accidents that injure and kill thousands of people. If you or a loved one has been involved in a truck accident, then call Attorney Ben Mayerson for assistance with your truck accident. He provides free case evaluations and doesn't charge any upfront fees!
---
Contact our attorney online or call Attorney Ben Mayerson at (610) 492-7155 for help today!
---
Determining Fault in Car Accident Cases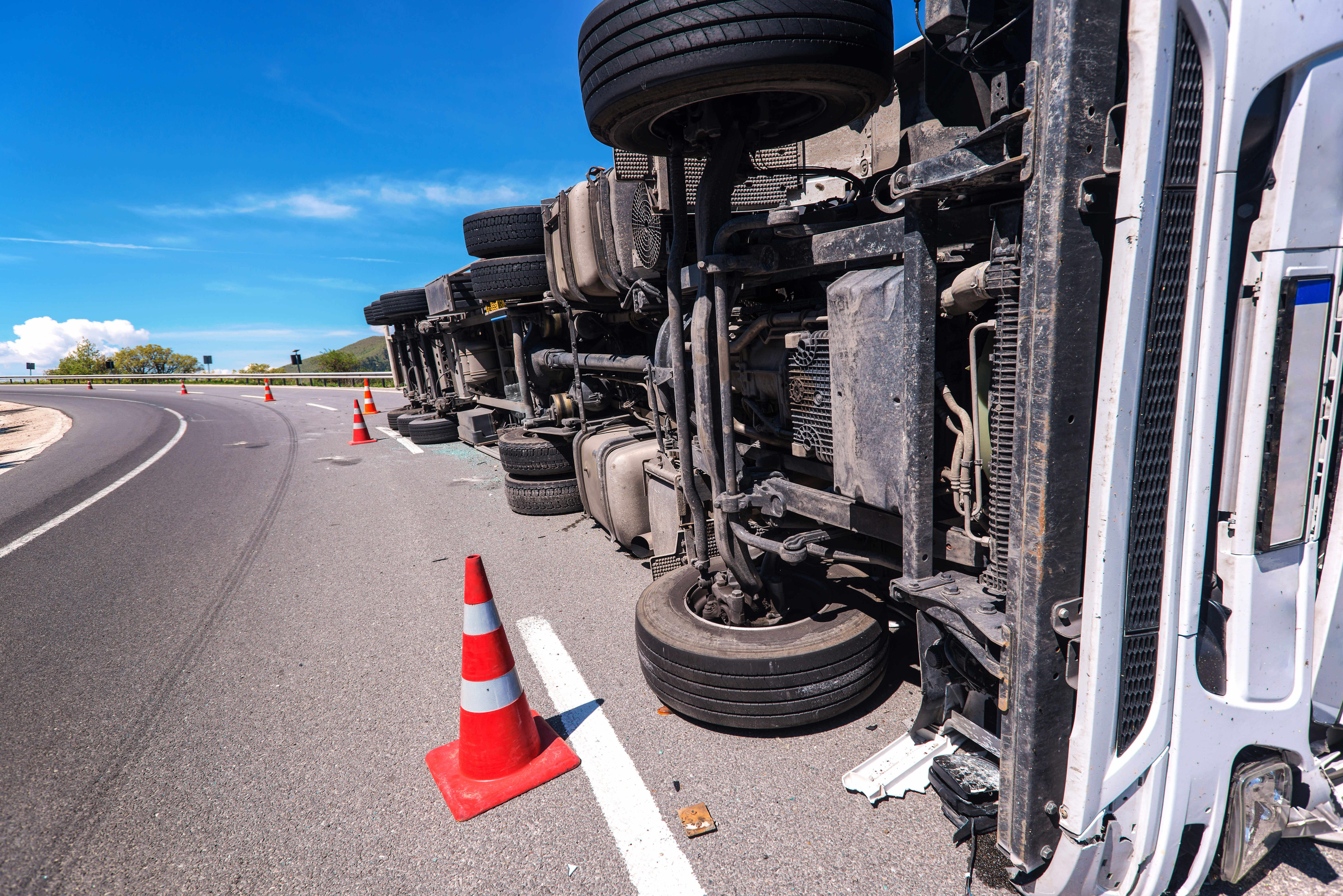 Many people believe that truck accidents are the result of alcohol or drug use by the drivers. However, the truth is that the accidents are usually caused by faulty equipment due to poor maintenance by the trucking companies. Truckers are also under intense pressure to deliver their cargo quickly. Reckless choices mean that they can earn more money per trip. The deadly combination of irregular replacement of tires and brakes plus the drivers' fatigue is the true culprit behind the rash of tractor trailer accidents.
Common causes of truck accidents include:
Fatigue
Alcohol and drug use
Poor driver training
Faulty equipment
Speeding and aggressive driving
When a truck hits a car, a light-duty truck or a motorcyclist, it can change the lives of the occupants of the other vehicles instantly. Experienced legal representation is required for the victims of negligent truckers to receive proper compensation for their injuries. An experienced lawyer understands how to deal with the insurance companies that try to keep the settlements for truck accidents as low as possible.
Common Injuries & Damages in Truck Accident Cases
Because of the disparity in size between most cars and 18-wheelers, many victims of truck accidents sustain serious injuries. The following are some of the injuries that commonly occur in truck accidents:
Neck and back sprains
Fractures
Injuries to shoulders and knees
Head injury
Scarring
Wrongful death
Hours of Service Regulations & Truck Accidents
While they are indispensable to our national infrastructure, tractor-trailers and other commercial vehicles cannot help but create a certain degree of hazard on the roads they travel. However, when drivers operate their vehicles while fatigued or otherwise distracted, that risk gets unnecessarily compounded many times over. With such a powerful and potentially dangerous instrumentality in their hands, commercial drivers are expected to operate with the utmost caution and trucking companies who profit from introducing these hazards to the public are expected to exercise great care in selecting, training and supervising these operators. When they fail to live up to these duties and injury results, our laws hold them accountable.
Commercial vehicles and drivers are subject to a plethora of regulations. However, one such regulation that frequently becomes an issue when litigating truck accidents are the Hours of Service rules imposed by the Federal Motor Carrier Safety Administration (FMCSA).
These rules strictly limit the amount of time commercial drivers can spend behind the wheel, set minimum rest periods and require drivers to keep detailed logbooks to ensure compliance:
Truck drivers cannot put in more than 11 hours of total driving after each 10-hour break.
Truck drivers cannot drive if it has been more than 14 hours since their last 10-hour break.
Truck drivers must take a 30-minute break at least every eight hours.
Truck drivers cannot drive in excess of 60 hours over seven days or 70 hours over eight days unless he or she takes at least 34 consecutive hours off duty.
Unfortunately, in order to maximize profits, some truck drivers and trucking companies push far beyond these mandatory limits. Some even go so far as to forge or alter their logbooks in order to conceal their noncompliance. A trucking accident attorney can obtain and closely review these logbooks and other pertinent records for evidence of noncompliance and concealment when investigating cases where driver fatigue appeared to be a factor.
Truck Accident Frequently Asked Questions
How long do I have to file a truck accident lawsuit in Pennsylvania?
Like all civil claims, truck accident injury cases are subject to a legal time limit commonly known as a "statute of limitations." In Pennsylvania, truck accident victims have two years from the date of their injuries to file a lawsuit in the state's court system against the responsible parties. With that being said, this time limit can change under select circumstances. Do not hesitate to reach out to an attorney to determine exactly how the statute of limitations applies to your case.
What if I was partially to blame for the crash?
If you share some level of fault for the truck accident that caused your injuries, you may still be able to pursue some level of compensation. In shared-fault injury cases, Pennsylvania follows a rule known as "modified comparative negligence" which means that the amount of compensation an injured party is eligible to receive will be reduced by an amount equal to their share of fault as long as they are found to be 50% or less at fault. For example, if you were injured in a truck accident and suffered $50,000 total damages. At trial, the jury finds you to be 10% at fault for the crash. Under Pennsylvania's comparative negligence rules, you will only be able to recover $45,000 total compensation (or $50,000 minus the $5,000 that represents your share of fault).
What type of compensation will I be able to recover?
Depending on the circumstances of your case, you may be eligible to recover compensation for the value of damage to your vehicle, present and future medical expenses, lost wages and other income, pain and suffering, and wrongful death (if a loved one was killed). In rare cases where a truck accident is caused by extreme negligence, additional punitive damages may be awarded to the injured party.
What should I do at the accident scene?
While you are still at the scene of your truck accident, be sure to do the following:
Stay calm and get to a safe place, if you are able to move.
Call 911, even if your injuries seem to be minor.
Seek medical help for yourself and your passengers.
Stay at the accident scene until you are permitted to leave by the responding police officer.
Get the names, addresses, phone numbers, email addresses, insurance information, driver's license numbers, and license plate numbers of all involved parties.
Get the contact information of any witnesses to the crash for future reference.
Take photographs of all damage, the positioning of the vehicles, traffic patterns, weather conditions, and any other details that help paint a picture of what happened.
Do not admit fault or apologize.
Tell the police your version of the events of the crash. Stick to the facts and avoid speculation.
What should I do in the days after a truck accident?
In the days after a truck accident, be sure to:
Request a copy of the police report for your crash.
Keep a detailed record of all medical treatments you receive and how your injuries impact your day-to-day life. Record your pain levels and any tasks you are unable to complete as a result of your injuries.
Keep a list of all out-of-pocket expenses you incur as a result of your injuries.
Speak with an attorney prior to accepting any settlement offer from an insurance company.
The insurance company wants me to provide a statement. What should I do?
To protect your legal rights, do not consent to any written or recorded statements after your truck accident. Politely refuse their requests for a statement and have your attorney speak with them instead. No matter how friendly or concerned for your well-being an insurance adjuster may seem, their primary goal is to protect the insurance company's interests – not yours.
Should I accept the insurance company's settlement offer?
Never accept any settlement offered by the insurance company after a truck accident without first discussing your situation with an attorney. Insurance settlements are often lower than what survivors deserve and are offered with the intent of getting them to accept less while signing away their ability to pursue further compensation. During a free consultation, our attorneys are ready to listen to your case and can recommend the best course of action.
How long will my truck accident case take to resolve?
Every truck accident is different, therefore it is nearly impossible to predict how long it will take to resolve your case. With that being said, cases that involve more severe injuries such as traumatic brain injuries, paralysis, or amputations tend to have a longer timeline than those with comparatively minor injuries such as whiplash. Generally speaking, you do not want to enter the settlement negotiations phase of your case until you have received all medical treatments for your injuries as this will help your attorney make the right demands. Likewise, the timeline of your case will be heavily influenced on factors such as the level of cooperation of the insurance company, the complexity of the laws applicable to your case, and whether or not your case ends up going to trial.
Contact Mayerson Injury Law, P.C. For a Free Case Evaluation!
An attorney who has sued trucking companies previously usually gets a larger settlement than an attorney with no experience prosecuting a lawsuit against a large trucking company.
You have rights if you were injured by an errant truck driver. If someone you love was killed in a truck accident, you can obtain compensation for the loss of wages, loss of consortium, pain, suffering and medical bills. Find the best, most experienced personal injury lawyer you can so that you get the best results from your lawsuit.
---
We offer risk-free case evaluations. We handle all truck accident cases on a contingency fee basis. You won't pay any legal fees if we don't recover compensation for you.
--- Even though the insurance company gave us the run around, Ben was able to make sure he obtained a settlement for me in the end.

Erik K.

Not only did Ben resolv the claim with all parties quickly, he got me a settlement for above and beyond what I thought possible.

Kris

They went over and above having my files reviewed and kept me aware of their progress.

Constance S.
Why Choose Mayerson Injury Law?
We are not a big box law firm operating on volume, assigning cases to inexperienced lawyers

Record Breaking Results Dating Back to 1963

Largest Insurance Bad Faith Verdict in Pennsylvania History, Entered by a Trial Court Judge Sitting as the Fact Finder

We are Pottstown's preeminent personal injury law firm with over fifty 5-Star Google Reviews from real personal injury clients

We are a boutique law firm with decades of experience battling insurance company tactics

You Won't Pay Unless We Recover Compensation For You

If You Can't Travel, We Will Come to Your Home or Hospital

We Offer Free & Confidential Case Evaluations
Schedule A Free Consultation