Nationally Recognized Firm
Our goal is to win your trust and your case.
Pottstown Motorcycle Accident Lawyer
Legal Representation for Victims in Montgomery, Chester & Berks Counties
Hiring an attorney after a motorcycle accident could help you obtain a much higher settlement amount than you might otherwise receive. All too often, insurance companies will unnecessarily delay or even deny motorcycle claims from injured victims.
Our legal team can help you seek coverage for:
Medical bills
Lost wages
Emotional pain and suffering
---
How Did Your Accident Happen?
When you meet with a motorcycle accident lawyer from our office, one of the questions we will ask you is, "How did your accident happen?" In order to determine fault, we must get to the root cause of the accident. Accordingly, our evaluation of your case will involve a thorough examination of the details of your collision.
Oftentimes, we find that one or more of the following contributed to the motorcycle accident that left you injured:
Defective vehicle products
Road hazards such as potholes, uneven pavement, and oil slicks
Poor visual recognition by other car and truck drivers on the road
Wobbling caused by high-speed traveling
Once we have fully assessed your accident and determined the cause of your injuries, we can formulate a plan to move forward. Whether you file a claim or you take your case to court will be based on the details of your accident and / or the amount of compensation the insurance company is willing to invest in your recovery.
Common Injuries from Motorcycle Accidents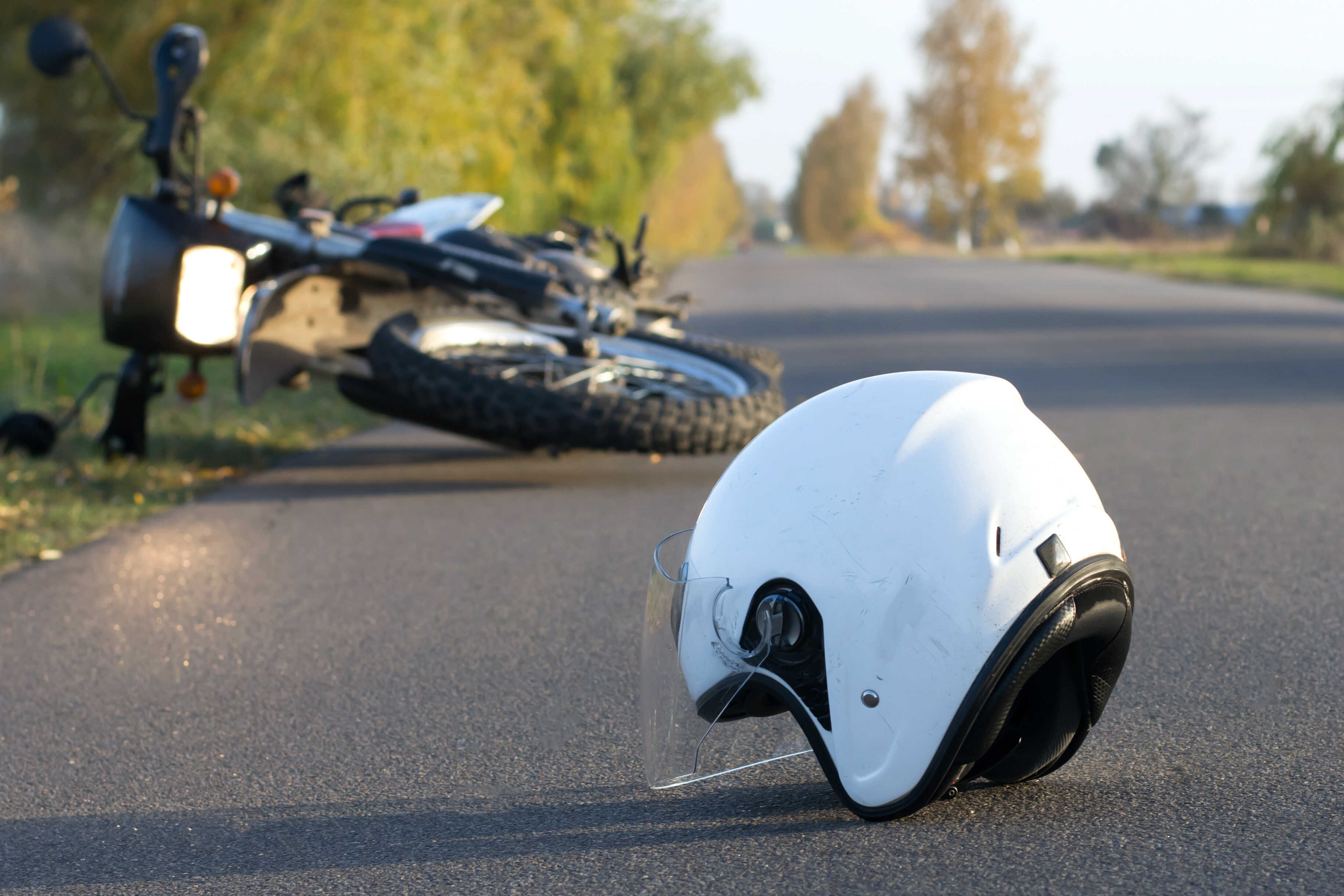 There are undeniably certain benefits to riding a motorcycle, such as their cost effectiveness, small form factor, and the thrill of the open road. Unfortunately, these same factors that make riding a motorcycle so much fun also make riders extremely vulnerable in the event of a collision. According to the Insurance Information Institute, motorcyclists are 27 times more likely than passenger car occupants to die in a crash per vehicle mile traveled. Those who are lucky enough to survive a motorcycle accident are often left with life-changing injuries.
Some of the most common motorcycle accident injuries include:
Road rash
Broken bones
Burns
Internal bleeding / organ damage
Amputation / limb loss
Dental injuries
What to Do After a Motorcycle Accident
Your actions immediately following a motorcycle accident can have a tremendous impact on both your health as well as any insurance claim or lawsuit you may have to file. While you may be in shock, it is important to remember these important and immediate things:
If you are able to do so, get out of harm's way.
Call 911 and summon medical help right away if you are seriously hurt.
Call the police. They will help you get the accident scene under control and create a written report of the incident.
Keep your helmet and gear on until paramedics arrive.
Always seek medical help even if you feel okay. Serious injuries may not always be immediately identifiable due to the body's adrenaline response.
Stay calm. Do not do anything that will put you or others at risk of injury or cause further property damage.
Collect the contact and insurance information of all involved parties. Be sure to get the contact information of any witnesses to the crash as well.
If you can, take photographs and/or videos of the accident scene as evidence.
Never admit fault. While it may be second nature to apologize or say "I'm sorry," doing so can potentially expose you to liability before an investigation has even taken place.
Tell your insurance company as soon as possible. Do not admit fault and stick to the facts.
Contact an attorney and discuss your legal options.
Contact The Attorneys at Mayerson Injury Law, P.C. Today!
Mayerson Injury Law, P.C. is available 24 hours a day, 7 days a week to take your call. We can meet with you in-office, at your home, or even at the hospital to discuss your case free of charge. Together, we have helped hundreds of injured victims seek the compensation they both need and deserve. Let us do the same for you!
--- Even though the insurance company gave us the run around, Ben was able to make sure he obtained a settlement for me in the end.

Erik K.

Not only did Ben resolv the claim with all parties quickly, he got me a settlement for above and beyond what I thought possible.

Kris

They went over and above having my files reviewed and kept me aware of their progress.

Constance S.
Why Choose Mayerson Injury Law?
We are not a big box law firm operating on volume, assigning cases to inexperienced lawyers

Record Breaking Results Dating Back to 1963

Largest Insurance Bad Faith Verdict in Pennsylvania History, Entered by a Trial Court Judge Sitting as the Fact Finder

We are Pottstown's preeminent personal injury law firm with over fifty 5-Star Google Reviews from real personal injury clients

We are a boutique law firm with decades of experience battling insurance company tactics

You Won't Pay Unless We Recover Compensation For You

If You Can't Travel, We Will Come to Your Home or Hospital

We Offer Free & Confidential Case Evaluations
Schedule A Free Consultation