Margaret Connors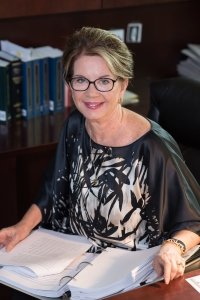 Attorney Margaret Connors has over 30 years of experience as an attorney. Before joining Mayerson Law, she worked at The Mayerson Law Offices in Spring City and at Anapol, Schwartz, Weiss, and Schwartz in Philadelphia. Margaret served as a law clerk to Judge Perry Shertz of the Superior Court of Pennsylvania; she subsequently clerked for Justice William D. Hutchinson and Chief Justice Robert N.C. Nix of the Supreme Court of Pennsylvania. Margaret also served as the administrative law clerk to Justice Juanita Kidd-Stout, the first African-American woman to sit on the highest court of any state. Because of her appellate experience, Margaret largely devotes her professional efforts towards legal research on the firm's toughest legal issues. She works on all the firm's appellate cases, including Berg v. Nationwide in which the Supreme Court reversed a trial decision that was not favorable to the firm's clients, ultimately resulting in a 21 million dollar verdict.
Margaret graduated magna cum laude from LaSalle University in 1972 with a Bachelor's Degree in History. She went on to earn her Master's Degree in History from Villanova University in 1976 with the help of an assistantship awarded by Villanova. She then earned her Juris Doctor from the Villanova University School of Law where she qualified for the Moot Court Board.
Margaret belongs to the Chester County and Montgomery County Bar Associations. She has served as a member of the Board of Directors of both the Chester County Bar Foundation and Bar Association. She has served as treasurer and secretary of the Bar Foundation and chaired the Historical Committee of the Bar Association. In 2010, Margaret received a Service Award from the Chester County Bar Association for her charitable fund raising efforts.
Margaret has also served as a member of the Board of Directors of her high school alma mater, Merion Mercy Academy. She mentored a high-school, Mock Trial team from 2008 through 2012.
Margaret is an avid traveler who often spends time in her husband's home town in Sicily. She has learned to cook the local cuisine which emphasizes fresh fish and home-grown produce. She is also a sports enthusiast who has played, coached, and refereed basketball with certifications from PIAA and NAGWS.
Margaret and her husband, an architect, have two grown children. Her daughter, a "Teach for America" recruit, currently lives and teaches in Brooklyn, NY. Her son works as an economist with the International Monetary fund in Washington, D.C.